There is definitely no shortage of options in Portland's "Old Port" when you are looking for a night on the town. Our tiny, yet bustling hip city offers something for everyone. From nationally acclaimed dining options to your classic local bar, and everything in between, visitors and locals alike will not be left out to dry. I spent Friday night out with a Portland first timer who happens to be a beer lover, so what better place to start the evening than at Novare Res, Bier Café, which is basically beer heaven. Located in a small nook off of Exchange Street this tavern style hangout boasts an impressive (and somewhat overwhelming) ten-page beer bible! The offerings include: thirty five rotating beers on tap,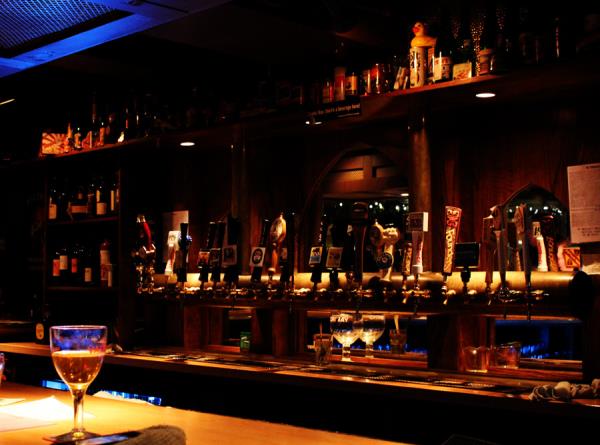 two hand pumps for cask ales (unfiltered, unpasteurized beer, also referred to as "real ale") and a staggering five hundred bottled selections.
Overwhelmed yet? Worry not, the staff is extremely friendly, and knowledgeable, so you're in good hands. I had the pleasure of chatting with Shahin Khojastehzad, the general manager, whose passion for beer emanated throughout our conversation, I walked away feeling as though I'd just graduated from beer 101. Our drinking selections for the evening were: Allagash (a local favorite) Cru, Westmalle Tripel, and Achel blonde.
The Allagash Cru was, of course, amazing (Allagash never disappoints) this lovely golden treat had great notes of spice with a smoky sweet aroma, a perfect winter time warm up indeed! The Westmalle, oh where to start, a lovely, lovely selection. A beautiful yellow in the glass this beer had great hoppy fruit flavors and aromas, with a smooth, creamy finish that made it easy to drink, and enjoy. Finally the Blonde, who doesn't love a blonde ;) more fruit aroma going on with this beer, but this one had some malt going on as well. Hops were present in the flavor here too, very nice. The latter two of these beers happen to be brewed on monastery grounds in Belgium and Netherlands, the brewing process being overseen by monks (how cool is that?!).
Drinking guilt beware, all profits for these beers go back into the monastery and to missionary work, so drink up, it's for a good cause! I highly recommend stopping into Novare Res and getting your beer on any night of the week. On a Friday night you will find yourself in a lively, comfortable setting which although spacious, seems to fill up quickly, so if you're looking to snag a table or stake out the overstuffed leather couches you may want to arrive sooner rather then later.
Moving on, we made our way down Exchange Street (warm, fuzzy beer buzz in tow), towards Andy's Old Port Pub, which is located on the eastern end of Commercial Street.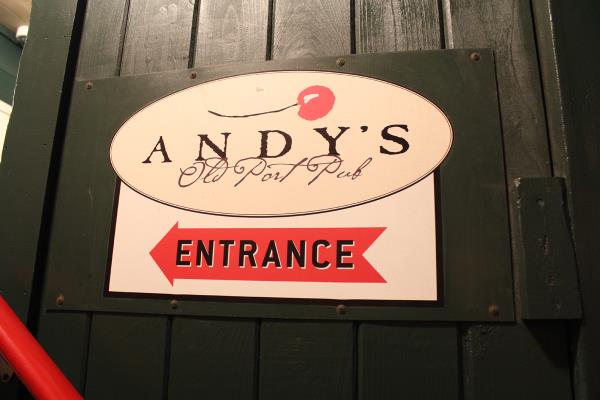 This is a classic, cozy Maine bar and restaurant with a real "lobsterman's hangout" feel to it, definitely a locals place, but all are welcome. They offer live music every night of the week featuring great local talent.
We had the honor of listening to Celia Whitehead (a Chebeague Island resident) and Mark Bowman perform as we dined, and drank. The Andy's menu offers a great variety of tasty pub style grub with a wide variety of Maine's famous seafood to choose from. I had a lobster melt which consisted of tasty local Maine lobster, butter, avocado, tomato, and swiss atop a French baguette, yes it was as good as it sounds, YUM! My companion had a classic Reuben, also delish. The service was friendly and personable and the atmosphere was lively and warm. The interior is littered with photographs of lobster boats and Maine coastlines, along with other nautical décor, so you will find yourself immersed in Maine culture at Andy's. I would highly recommend visitors to Portland stopping in for a truly Maine experience.
After dinner and more drinking we headed over to nearby Spread, a new comer to Portland (opened May of 2012) Spread offers a "big city lounge" environment where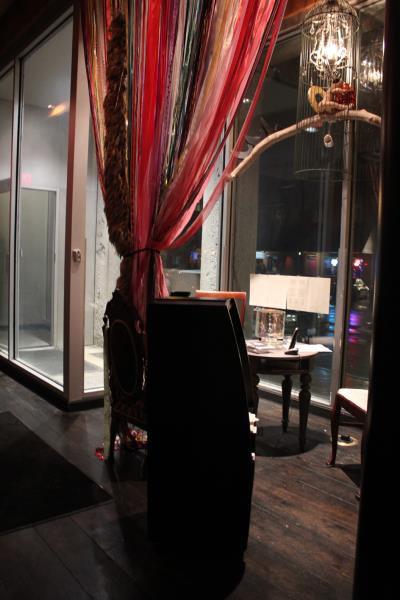 classic meets contemporary. With a good variety of modern art and upscale yet inviting design Spread offers a great classy cocktail lounge environment perfect for sipping and chatting. They have a good cocktail menu, an impressively well stocked bar, and a few tap offerings. I had the Salted Maple Manhattan, delightful! (yet too sweet for seconds) and my date had a black IPA.
The menu offerings are extremely unique, with Asian/French flair present. I would recommend taking on Spreads menu with a group of friends, it's something that makes you want to sample a little of everything (because it's all very different), so ordering several plates to share would be the way to go here. The menu is on the pricier side, so don't expect a cheap night out at this local, but it's well worth the price. I recommend trying the Smoked Local Squash ($8), the Wagu Beef Sliders ($13), the Braised Pork Short Ribs ($25) and/or the Bong Island Mussels ($15).
The atmosphere at Spread is definitely a change from laid back Andy's but it's a great place to enjoy a classy evening whether you're looking for dinner or just a few drinks. There is plenty of seating and the spacious interior is scattered with inviting oversized loungers, which basically scream "come lounge on me"! Who doesn't like a comfy place to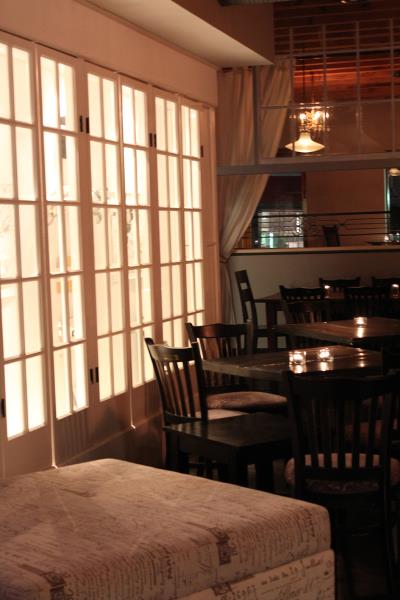 sip a cocktail? The loungy ambiance of Spread was a great place to end an evening of "Old Porting".
Although the options remain endless, and many other great stop-ins were bypassed (saved for next time) my mini tour was a great starting point for my first-time-in-Portland boyfriend to see the array of offerings that are available. Worry not the rest will soon be visited, so stay tuned and check in for more Portland adventures coming soon! I hope you all enjoyed my evening out and until next time everyone, keep loving life!
xoxo Casey