I was battling the rain Thursday night with a cozy cup of coffee at my favorite writing location when I received word that it was the opening night for the new Empire. I was extended an invite from Jason Loring (owner and chef of nosh kitchen bar) to experience the new scene, and who better to taste test with then the creator of my favorite foods around. I packed up and decided to ditch my laptop for live music, great food, and lovely company.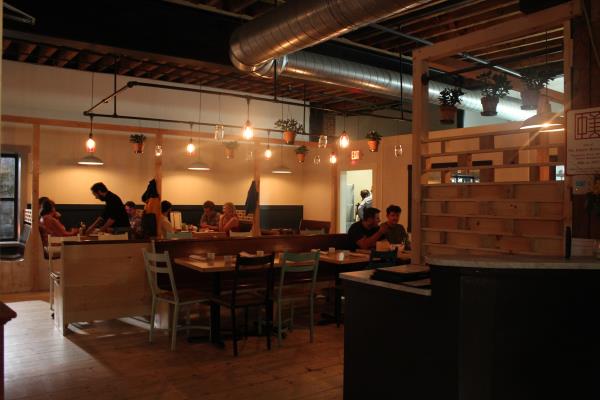 The shabby old interior was unrecognizable, the dark seemingly cramped old space has been transformed into inviting modern Zen, the boring previous menu replaced with Chinese Kitchen fare. I arrived to orders of steamed lobster dumplings, shrimp dumplings, shumai, bacon fried rice, and jalapeno shrimp.
The lobster dumplings were out of this world, with thin sticky wraps and loads of meat they are served with a tangy, spiced dipping sauce that blends with the lobster beautifully. The bacon fried rice was incredible, the rice, cooked to perfection took on a buttery flavor that exploded on first bite, giant chunks of sliced local bacon were present in every bite. The jalapeno shrimp was a blend of sweet, spicy, and crispy awesomeness; with hints of scallion and cilantro thrown in. This dish was my favorite of the three, and apparently a family signature dish of owner Theresa Chan's father.
I ordered a "Dragon's Milk" cocktail, which took me a minute to process, with my three favorite things in life (coconut, green tea, and gin) as the main ingredients I had a moment of "it's too good to be true" confusion, but it was indeed true, and unbelievably delicious. A concoction of coconut, green tea infused gin, pandan syrup, and Thai basil leaves arrived in front of me in glorious jade fashion. Instead of the usual "it's great for one drink but I wouldn't order a second" outcome, I had three; the flavors were that perfect blend of I could drink this all night flavor.
After indulging in more amazing flavor then one person should consume in one night, we headed upstairs to check out the band. El Ten Eleven was rocking the house with their emotionally charged sound. This impressive "Power-duo" provides intricate sound with only a double neck bass/guitar, drums, and a maze of foot pedals that liter the stage. Without a laptop to be found this pair creates amazing music from scratch. This was my first time seeing them perform and I instantly fell in love. Charismatic, talented, and unique this pair brought lyric free performance to light. Their music and sound made me feel, charged; it's the kind of music and sound that you can feel, they are the kind of band that will mesmerize you, I just wanted to keep watching. I couldn't believe the complexity coming from two people, they create a one of a kind vibe.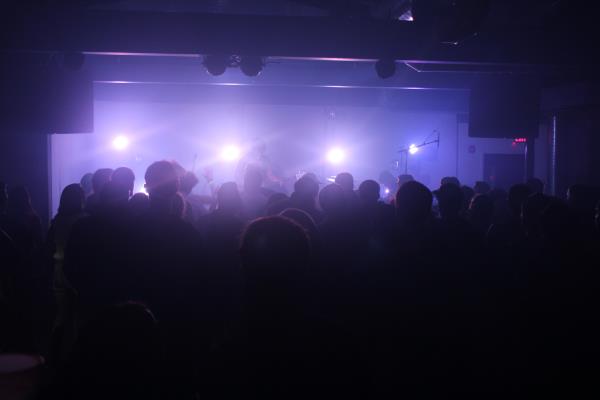 Between the revamp, the menu, and the band I would have to say that Empire reopening night was a hands down success. It's great to have this iconic location back up and running and although the revamped restaurant had definitely undergone a facelift, the music venue hasn't lost any of its old charm or feel; this space is still "The Empire". New owners Todd Bernard and Theresa Chan have perfected the space! I'm looking forward to the future shows, the delicious food, and certainly more Dragon's Breath. Great job on bringing back Empire guys, it was marvelous!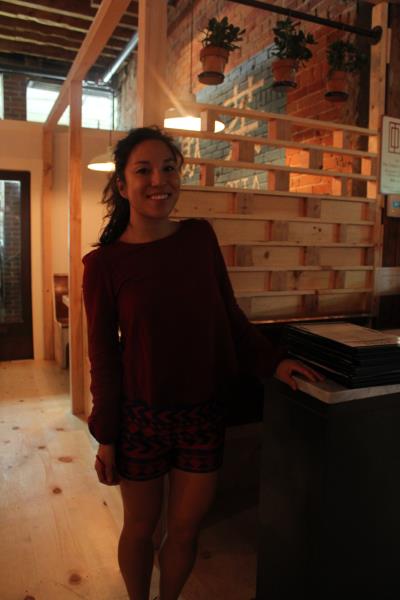 For more information: Empire Live Music and Events