Late night eaters rejoice! No longer are we forced to settle for the meager offerings of pizza, wings, or any standard late night food of the sort. Nosh kitchen bar is taking late night snacking, or should I say, "noshing" to the next level. Options are no longer limited if you're looking to grab a bite after ten o'clock oh no, Nosh has taken midnight dining to the next level with the genius that is their menu. After countless late nights spent at Nosh chatting with friends, sipping cocktails, and indulging in their always exciting, ever changing, oh-so-creative menu; I'd decided it was about time I did a feature on this glory, and meet the mastermind behind the operation, so I scheduled a visit and headed over.
It was a quiet Friday morning as I headed into Nosh and the staff had just finished prepping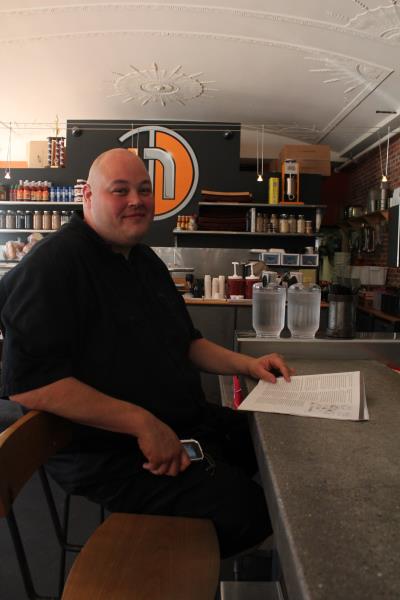 for their long day ahead, owner and chef Jason Loring sat at the end of the bar bent over a newspaper. I stopped to chat with the bartender Mike, an acquaintance of mine who had scored me the early access (thank you!); and after snapping a few quick photo's of the restaurant's cool, urban interior I headed over for a chat with Jason. He was immediately welcoming and friendly, and has a warm, laid back way about him, after chatting for only a short time I liked the restaurant even more. There is clearly passion involved in the making of this local, and with talk about "giving back" and "getting involved in some local charities" it was obvious I was in the presence of a good person, with a kind soul. Nosh got together with Oxbow (a local brewing company) to host a block party this past June, shutting down a block downtown where they served up tasty "noshings" and refreshing brews amid skateboarding and graffiti artists. The plan is to make this an annual event, with all profits going to charity, very cool!
Open since 2010, Chef Jason, along with co-owners Matt Moran, and Toby Moulton, tries to keep things exciting on the menu (and succeeds). He told me: "I try to change the menu four times a year" aside from this, they always have new and exciting specials; I've never once had the same thing twice. Their menu offers options ranging from bacon-dusted fries, to artisan cheese plates, there literally is something for everybody here. On top of unique, exciting offerings to keep you coming back you can feel good about the ingredients going into what you order, the meat and produce being used are all fresh and all local. Each and every one of their entrée's is creative, unexpected, and amazing, eating at Nosh is like putting fireworks in your mouth, the explosion of flavor is glorious and everything blends together perfectly. Since I was already there and I'm obsessed with their menu, I had to have lunch. I ordered the falafel. Made with chickpea fritters, hummus, roast beet tzatziki and cilantro, then wrapped in warm naan this crispy, creamy, sweet, and slightly spicy delight had me savoring every bite, it was like my taste buds were having a party.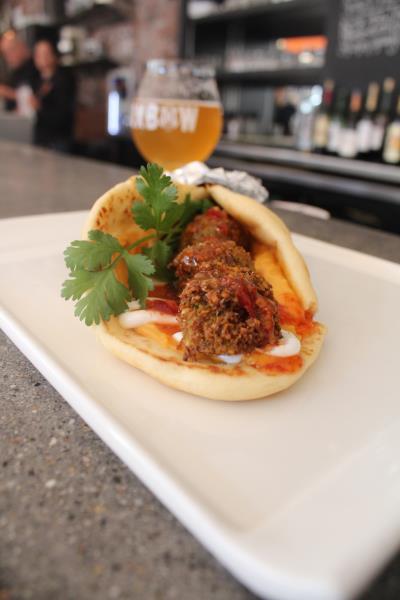 As a little post lunch treat, Jason brought me over a tasty snack that was light, fresh, and filled with lots of exciting flavors. I'd titled it Nosh tuna creation in my notes, so that's what it shall remain. This "creation" consisted of olive oil poached albacore tuna served over Maine corn and black bean salsa, it was then drizzled with charred poblano crema and topped with fried sweet potato. The crema was the perfect creamy touch and added burst of flavor; it kind of made me want to lick the plate a little. This is the glory of Nosh food, you find stuff you like, you order, and then you end up being totally surprised by the kaleidoscope of flavor in your mouth.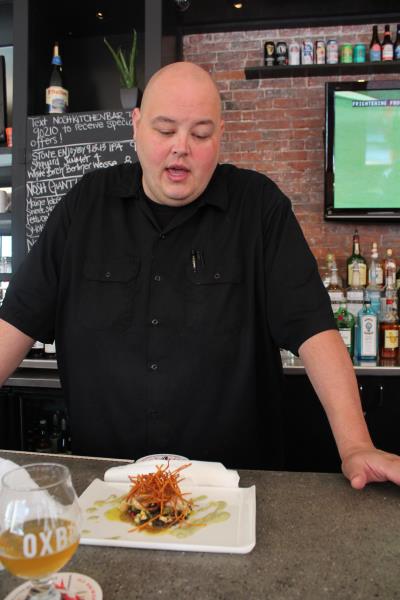 Open every night until 1A.M. you can go any day of the week and indulge in this foodie experience, or just have a cocktail (but why would you?), the environment is great for catching up with friends over drinks and a snack. If your looking for a cool, fun night out but you're not looking to hit the bar scene full on then Nosh is the perfect location. If you are already out, a few drinks in and find yourself running on empty, head over for a little nourishment to get you through the rest of the night. Whatever you're doing or planning, Nosh fits. As a little preview of what you can expect from the menu, here are some recommendations: Nosh is famous for its bacon-dusted fries, get some. If you're super hungry and looking for a challenge, the Apocalypse Now Burger (Adam Richman from Man V Food took this one on!) will most definitely change your life, I've tried the Oyster Rockafella, and it was out of this world good. If it's just a snack you are after they have a section on the menu titled "Noshings" which are small plates made for sharing, or you can order one as a small meal. The Tuna wraps are possibly one of the best things I've ever had.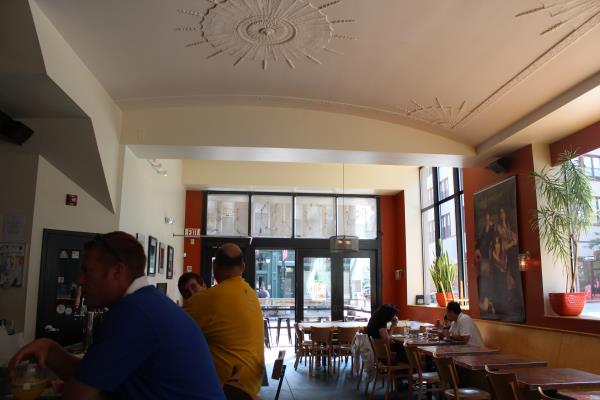 If you haven't already experienced Nosh, then take my word on it and pay them a visit; for dinner, drinks, a night out, a late meal, whatever you're looking for you won't be disappointed. If you've already caught onto this addicting late night hangout then well, you already know what you're in for next time! I hope to see some of you around the bar at Nosh, and for the love of food Jason, keep up the awesomeness!